MANHATTAN Stojan na 2 LCD monitory - kloubový
Přidat do oblíbených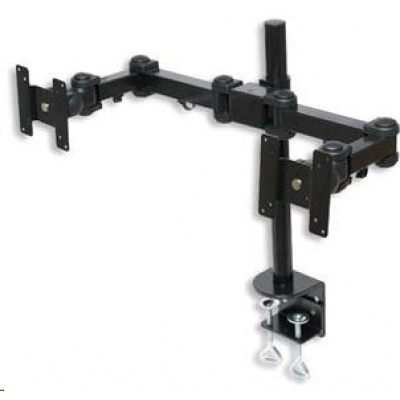 Popis
Parametry
Hlídací pes
LCD Monitor Mount with Double-Link Swing Arms
Supports two monitors, double-link swing arms
Meets VESA standards – Securely holds two LCD monitors from 13" to 24"
Positions monitors above the desktop to increase work space, improve visibility and minimize clutter
36" double-link swing arms with separate 180° tilt and 180° rotation
Improve Productivity and Reduce Strain
The Manhattan LCD Monitor Mount with Double-Link Swing Arms provides a secure and elevated position for two flat-screen monitors to help free up valuable desk and work space. Its fully adjustable tilt, rotate, side-to-side, height and tension settings enable a comfortable and productive viewing position that helps reduce eye fatigue and neck and back strain. LCD monitors can be easily rotated around the pole to allow others to view presentations and other multimedia displays from almost any direction.
Rugged Construction and Easy Installation
Durable die-cast metal construction and a sturdy clamp provide a quick, easy and secure mount to a desktop or other horizontal surface. VESA compliant and ready to install with included hardware, there's no need to drill holes into desks or countertops.
Lifetime Warranty
Strict manufacturing standards ensure the highest quality in all Manhattan products. All items carry a full Lifetime Warranty — the strongest quality commitment anyone can make.
FEATURES
Meets VESA standards – Securely holds two LCD monitors from 13" to 24"
Positions monitors above the desktop to increase work space, improve visibility and minimize clutter
36" double-link swing arms with separate 180° tilt and 180° rotation
Die-cast metal pole with heavy-duty clamp mount
Easy adjustment of monitor orientation side-to-side and up-or-down
Ideal for office, studio, IT network and security applications
Installs easily to any desktop or other surface — no drilling required
Meets VESA standards
Lifetime Warranty
SPECIFICATIONS
General
Fits 75 x 75 mm / 100 x 100 mm VESA-compliant monitors
Monitor weight capacity: up to 6 kg (13 lbs.) each; 12 kg (26 lbs.) total
Installs on horizontal surfaces up to 7 cm (2.75 in.) thick
Dimension
Height (pole): 41.3 cm (16.26 in.)
Diameter (pole): 2.9 cm (1.14 in.)
Arm length (radius): 39 cm (15.5 in.)
Arm width (extended): 92 cm (36 in.)
Weight: 4.6 kg (10.14 lbs.)
Package Contents
LCD Monitor Pole with Double-Link Swing Arm
Cable management clips and trim caps
C-clamp with thumb screws (1)
Monitor mounting screws (8)
Installation hardware with instructions and hex tool
.
Typ příslušenství:
Držáky a stojany
Aktuální cena produktu je
2129
Kč  s dph